12 Day Galapagos by Land & Sea
Booking Dates
12/29/2022 through 12/17/2023
Travel Dates
08/01/2020 through 12/31/2023
Provider
Kensington Tours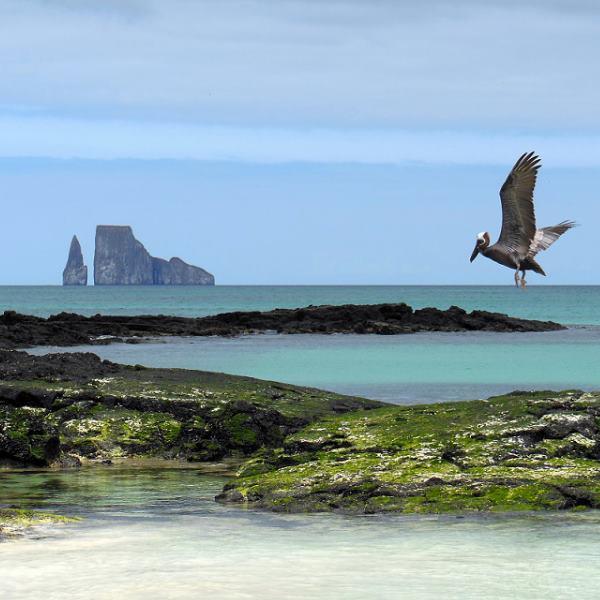 12 Day Galapagos by Land & Sea
For nature lovers, Ecuador and the Galapagos Islands are a must-visit destination. But there's plenty to love about this South American gem of a country beyond the boobie birds and iguanas. This fun-filled adventure combines the wildlife of the world's most fascinating archipelago with historic and gastronomic experiences in Ecuador's colonial urban centers.
It starts in Guayaquil, Ecuador's biggest and busiest city. Often overlooked as little more than a gateway to the Galapagos Islands, the city's treasures delight those who pause long enough to appreciate them. You'll do just that on a privately guided tour on which you'll discover must-see sights like Parque Seminario, Palacio de Cristal, and the Malecón 2000 riverfront boardwalk.
From Guayaquil, the trip moves some 700 miles (approximately 1,200 kilometers) to the west into the Pacific Ocean to the Galapagos archipelago. Made famous by naturalist Charles Darwin in 1835, this string of volcanic islands is home to some of the world's most unusual plants and animals, not to mention some incredible experiences. On Isla Santa Cruz, you'll get to go kayaking, snorkeling, or stand-up paddle-boarding in search of boobies, sea lions, and white-tipped reef sharks; go hiking around Cerro Mesa, and take a private tour of the rock formations of Las Grietas and explore secluded Tortuga Bay. Later, take to the surf itself on a four-night cruise that visits must-see spots like Puerto Egas, Isla Rábida (a sea lion haven), Tagus Cove, and the Santa Cruz highlands before heading back to the mainland.
Wrap things up back on dry land in Quito, Ecuador's political and cultural capital. First, experience the fascinating intersection of cultures that define Quito on a private tour that introduces you to its UNESCO-protected colonial architecture, followed by a tasting of the world's finest cocoa before sitting down to cocktails and a delicious tasting menu at a beloved local restaurant.
Kensington Tours creates private trips from the world's finest ingredients. Tailor-made with care by your personal Destination Expert, your personalized trip is always a one-of-a-kind experience made just for you. Expert local guidance and 24/7 service come standard.
| Day | Description | View All |
| --- | --- | --- |
| Day 1 | Guayaquil | Details |
| Day 2 | Guayaquil | Details |
| Day 3 | Guayaquil To Galapagos To Baltra Island To Santa Cruz Island | Details |
| Day 4 | Santa Cruz Island | Details |
| Day 5 | Santa Cruz Island | Details |
| Day 6 | Santa Cruz Island To Galapagos To Baltra Island To Galapagos Cruise | Details |
| Day 7 | Santa Cruz Island To Galapagos Cruise | Details |
| Day 8 | Fernandina Island To Galapagos Cruise | Details |
| Day 9 | Isabela Island To Galapagos Cruise | Details |
| Day 10 | Baltra Island To Santiago Island To Galapagos To Quito | Details |
| Day 11 | Quito | Details |
| Day 12 | Quito | Details |