Grand South America
Booking Dates
04/02/2023 through 11/07/2023
Travel Dates
04/02/2023 through 12/02/2023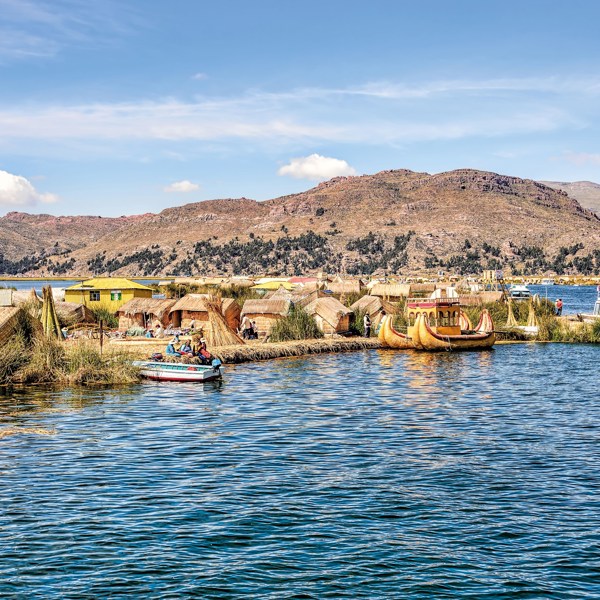 Grand South America
Set out on the grandest of South American tours as you discover Lima, the City of the Kings, explore the salt pans of the Sacred Valley and see the mysterious Machu Picchu up close, with an expert-led tour of the lost city before it opens to the crowds. Cruise Lake Titicaca to the Uros Floating Islands, where locals collect reeds to create their floating homes and pause in the Casablanca Valley for a wine tasting at the boutique Kingston Family Winery. In Buenos Aires, take in the balcony made famous by the former First Lady of Argentina, Eva Peron, and adventure onwards to the thundering cascades of Iguassu Falls. Across the Brazilian border in Rio de Janeiro, dial down the pace with cocktails on Copacabana Beach and dinner at the esteemed and century-old Confeitaria Colombo.


Dining Summary
12 Dinner (D)
22 Breakfast (B)
13 Lunch (L)
Choice Highlights
Choose between two carefully selected activities
Lima: Take a guided visit of the Monastery and its catacombs.
Lima: Visit the historic Torre de Tagle Palace and the Central Reserve Bank museum.
Choose between two carefully selected activities
Machu Picchu: Visit a working tea plantation.
Machu Picchu: View the world's largest private collection of indigenous orchids around your hotel surrounded by the Cloud Forest.
Choose between two carefully selected activities
Machu Picchu: Explore Machu Picchu further with a guided hike up to Inti Punku, also known as Sun Gate. These ruins are considered the main entrance for those who journey through the original Inca Trail. It offers a spectacular panoramic view of Machu Picchu from above.
Machu Picchu: Embark on a twilight nature walk where your guide will point out medicinal plants, sacred Pre-Inca pictographs, and an enchanting waterfall in the Cloud Forest.
Choose between two carefully selected activities
Cusco: Visit the ruins of Tambo Machay and enjoy a leisurely 3.7 mile (6 km) downhill walk back to Cusco as you pass the ruins of Puca Pucara and Quenguo.
Cusco: Return to Cusco by vehicle and visit San Blas church and the surroundings of this fascinating artsy neighbourhood of Cusco. After San Blas, continue to San Pedro market for some local shopping and insight into Peruvian produce.
Choose between two carefully selected activities
Santiago: Enjoy lunch with wine at El Castillo Forestal, a converted castle located in the Parque Forestal. This unique dining experience offers French cuisine with a turret room and a terrace with views of the park.
Santiago: Enjoy a Chilean seafood lunch with Wine. Mestizo Restaurante has incorporated aspects of international gastronomy to Chilean cuisine to create delicious ceviches, main dishes and desserts.
Choose between two carefully selected activities
Buenos Aires: Enjoy an indigenous dinner crafted with contemporary flair. Specializing in native meats and alternatives, El Baqueano works with small producers and fishermen to create extraordinary seasonal delights.
Buenos Aires: An iconic gastronomic hub, enjoy a traditional steakhouse dinner featuring fresh and local ingredients that make for an exceptional experience.
Choose between two carefully selected activities
Buenos Aires: Meet the local gauchos and learn about the traditions of these South American Cowboys on a horseback ride.
Buenos Aires: Explore the beautiful ranch on a leisurely walk, learning all about the gaucho lifestyle.
Choose between two carefully selected activities
Rio de Janeiro: Visit this beautiful library that was built in the heart of Rio by the Portuguese monarchy.
Rio de Janeiro: Take a behind the scenes look at Rio's iconic circa 1909 Municipal Theater with a Local Expert.
Additional Included Highlights
: You will be escorted by one of our fine Travel Concierges, handpicked to serve as your expert guide, consummate organiser, and friend overseas.
: Personal radio headsets give you the freedom to wander during visits to famous highlights, without missing any of your Local Expert's fascinating commentary, available on departures with 15 or more guests.
: At every hotel, you'll be treated to seamless baggage handling, with prompt delivery inside your room.
: Hotel and restaurant tips are included – you'll never have to worry about how much to give, nor search for foreign currency. We also include all taxes and porterage charges at hotels.
: Stay connected with friends and family with our complimentary coach and hotel Wi-Fi (where available).
: Complimentary, airport transfers are included on start and end dates and when additional accommodation has been booked through Luxury Gold. Guests will be transferred with fellow Luxury Gold Travellers that arrive on the same flight. Complimentary, private train station transfers are included when train travel is included within the itinerary. Transfers to train stations or alternate hotels, in the same start or end city of the itinerary, may be requested but are not guaranteed.
Exceptional Dining
Callao Region: You can relax before meeting your Travelling Concierge at 18.00 for a Welcome Dinner at MAYTA with chef Jamie Pesaque.
Lima: Enjoy a fantastic seafood restaurant in the trendy neighborhood of Barranco in Lima. This restaurant offers Peruvian classics in a great outdoor ambiance underneath the lush trees.
Sacred Valley: Experience a caja china lunch, a popular way to create a delicious meal in Peru, cooked in a wooden box.
Machu Picchu: Enjoy lunch at Café Inkaterra, located between the Machu Picchu train tracks and surrounded by lush forest.
Machu Picchu: Savour traditional Andean cuisine at the Machu Picchu Sanctuary.
Cusco: Dine at…

| Day | Description | View All |
| --- | --- | --- |
| Day 1 | Arrive in Lima, Peru | Details |
| Day 2 | Lima, City of the Kings | Details |
| Day 3 | On To The Sacred Valley | Details |
| Day 4 | Exploring the Sacred Valley Relaxed Start | Details |
| Day 5 | Journey to Machu Picchu | Details |
| Day 6 | Mysterious Machu Picchu | Details |
| Day 7 | Return to Cusco Relaxed Start | Details |
| Day 8 | Historical Cusco Relaxed Start | Details |
| Day 9 | Lake Region of Peru | Details |
| Day 10 | The Floating Islands of Lake Titicaca | Details |
| Day 11 | Puno, Back to Lima | Details |
| Day 12 | Fly to Santiago | Details |
| Day 13 | The Sights of Santiago | Details |
| Day 14 | Valparaiso and Wine Country | Details |
| Day 15 | Fly to Buenos Aires | Details |
| Day 16 | Beautiful Buenos Aires | Details |
| Day 17 | Pampas, Estancias and Gauchos | Details |
| Day 18 | The Falls of Iguassu | Details |
| Day 19 | The 'Great Waters' of Iguassu Falls | Details |
| Day 20 | Rio de Janeiro, City of Sea and Samba | Details |
| Day 21 | Exploring Rio de Janeiro | Details |
| Day 22 | A Farewell to Rio de Janeiro | Details |
| Day 23 | Depart Rio de Janeiro Departure Flight | Details |