Premium South East Asia in Depth
Booking Dates
07/18/2021 through 12/02/2023
Travel Dates
07/18/2021 through 12/28/2023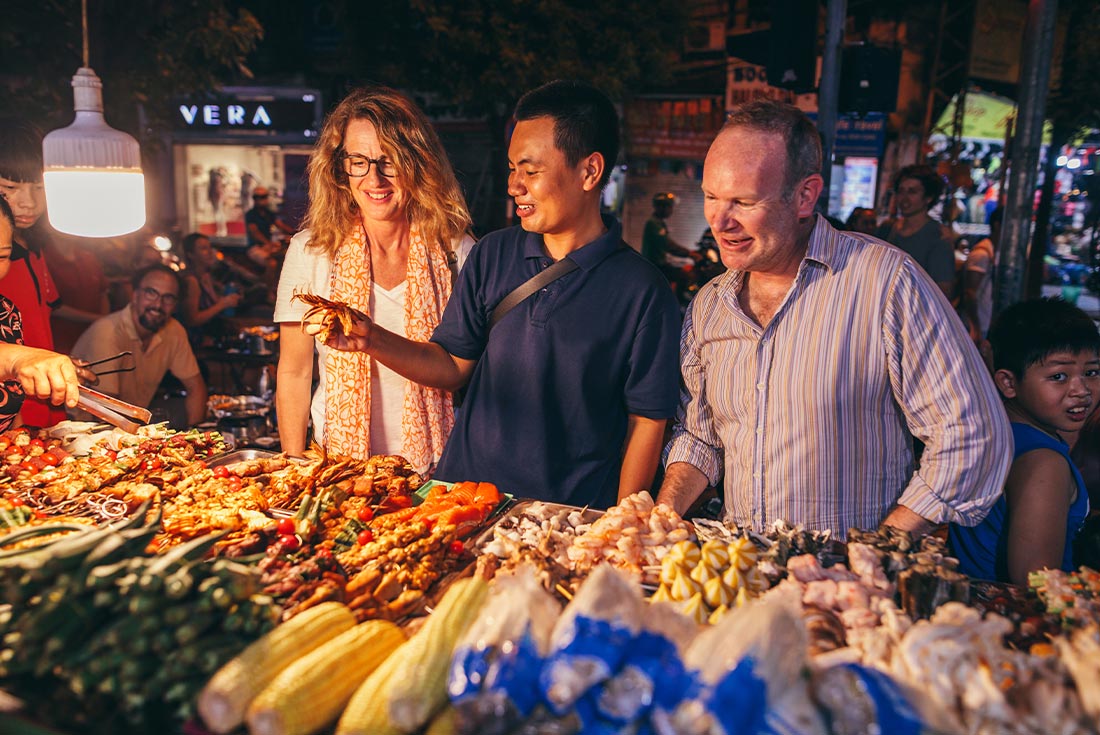 Premium South East Asia in Depth

A realm of untold history, sprawling waterways and ancient temples, South East Asia is a wonderland for travellers and explorers alike. This 24-day Premium adventure delves into the heart of Thailand, Vietnam and Cambodia, touching on the unique charm each region has to offer. Start your adventure in bustling Bangkok and venture north, where the wildlife, history and local food brings one surprise after the next. Travel into the depths of Vietnam, rich in old world culture and hidden treasures, before finally arriving in Cambodia witnessing the lost ruins of Angkor, uncovering the confronting history of the Killing Fields of Choeung Ek and the tranquillity of the Tonle Sap confluence.

Activities
Complimentary Airport Arrival Transfer
Bangkok – Welcome Dinner
Bangkok – Grand Palace
Bangkok – Wat Pho
Bangkok – Khlong boat canal tour
Bangkok – Temple Sunrise Merit Making
Ayutthaya – Rice Barge Lunch
Ayutthaya – Private Rice Barge Tour
Ayutthaya – Temples Tour
Kanchanaburi – Historical train ride
Kanchanaburi – Hellfire Pass Memorial Museum
Kanchanaburi – Kanchanaburi War Cemetery
Kanchanaburi – Erawan National Park
Uthai Thani – Hup Pa Tat
Uthai Thani – Wat Tha Sung
Uthai Thani – Traditional rice barge lunch cruise
Sukhothai – Historical Park bike tour
Mae Taeng – Lisu Lodge Dinnner
Chiang Mai – Elephant Nature Park Half Day Trip
Mae Taeng – Lahu Hilltribe Village Experience
Mae Taeng – Mae Tamaan Base Camp BBQ Dinner
Chiang Mai – Farewell Dinner
Chiang Mai – Wat Baan Den Temple
Hanoi – Welcome Dinner
Halong Bay – Overnight Boat Cruise
Hanoi – Hat Xam performance
Halong Bay – Tai Chi
Hanoi – Temple of Literature
Hanoi – Koto Restaurant lunch
Hanoi – One Pillar Pagoda
Hanoi – Ho Chi Minh Complex: Ho Chi Minh, Stilt House and Museum
Hoi An – Old Town walking tour
Hoi An – Good Afternoon Amaravati
Ho Chi Minh City – Cu Chi Tunnels
Ho Chi Minh City – Reunification Palace
Ho Chi Minh City – War Remnants Museum
Ho Chi Minh City – Notre Dame Cathedral
Phnom Penh – Welcome Dinner
Phnom Penh – Tuol Sleng Genocide Museum (S21)
Phnom Penh – The Killing Fields of Choeung Ek
Phnom Penh – Royal Palace & Silver Pagoda
Phnom Penh – Buddhist monastery visit
Siem Reap – Lum Orng Khmer Dinner
Tonle Sap – Tara River Boat Cruise
Tonle Sap River – River Boat Lunch
Siem Reap – Angkor Temples Guided Tour
Siem Reap – Three day Angkor Pass
Siem Reap – Lunch at Sala Bai
Siem Reap – Angkor Wat Photography Coach
Siem Reap – Banteay Srei Temple visit
Siem Reap – Angkor Temples Guided Tour
Siem Reap – Private Breakfast at Srah Srong Lake
Highlights
See Thailand, Vietnam and Cambodia through the eyes of a local as you travel with experienced leaders who will share stories, provide historical context, and of course know all the best places to eat.
Enjoy the best of South East Asia's cuisine as you dine on a barbecue dinner around a campfire in the hills of Thailand, dine at the KOTO cafe social enterprise in Hanoi and have a meal at Cambodia's first farm-to-table restaurant.
Experience three fabulous feature stays – the immersive community-based Lisu lodge in Thailand, a tropical oasis wellness resort in Cambodia and a magnificent junk-style boat on Halong Bay in Vietnam.
Support an important animal welfare initiative, speak with local experts and get close to incredible creatures at the Elephant Nature Park in Chiang Mai.
Travel Phnom Penh to Siem Reap on a charming riverboat then enjoy two guided days exploring the unbelievable temples of Angkor, including a morning accompanied by a private photography coach to help you capture lasting memories.
| Day | Description | View All |
| --- | --- | --- |
| Day 1 | Bangkok | Details |
| Day 2 | Bangkok | Details |
| Day 3 | Ayutthaya | Details |
| Day 4 | Kanchanaburi | Details |
| Day 5 | Kanchanaburi | Details |
| Day 6 | Uthai Thani - Nakhon Sawan | Details |
| Day 7 | Sukhothai | Details |
| Day 8 | Sukhothai | Details |
| Day 9 | Mae Taeng | Details |
| Day 10 | Mae Taeng | Details |
| Day 11 | Chiang Mai | Details |
| Day 12 | Hanoi | Details |
| Day 13 | Halong Bay | Details |
| Day 14 | Hanoi | Details |
| Day 15 | Hoi An | Details |
| Day 16 | Hoi An | Details |
| Day 17 | Ho Chi Minh City | Details |
| Day 18 | Ho Chi Minh City | Details |
| Day 19 | Phnom Penh | Details |
| Day 20 | Phnom Penh | Details |
| Day 21 | Siem Reap | Details |
| Day 22 | Siem Reap – Angkor Wat | Details |
| Day 23 | Siem Reap – Angkor Wat | Details |
| Day 24 | Siem Reap | Details |